Bruce Flaherty's Project…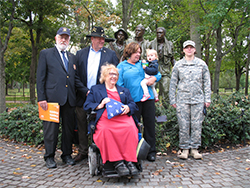 Reunions of the veterans of the 11th Light Infantry Brigade, 4th/3rd Infantry are due in large part to the efforts of Dan Behrens, brother of Tom Behrens who served Delta Co. 4th/3rd, and was killed in action in 1968. Dan wanted to learn more information about his brother's service in Vietnam and anyone who remembered his brother. His tireless search led him to about 30 or more of his brother "brothers" that have been brought together.
Dan's work in reuniting this group of veterans made Bruce Flaherty think of how to show their gratitude to Dan Behrens for reuniting the members of D/4th/3rd. So, at the 2006 reunion in Washington D.C., Bruce Flaherty came up with the idea to present an American flag to Dan and to two other families of 0/4/3 KIAs. They obtained three flags that had been flown over the U.S. Capitol on July 4, 2006.
At the 2008 reunion, presentations of the three flags were made at the Vietnam Veterans Memorial. Flags were presented to Mrs. Mary Anne Allison in honor of her brother Lt. Henry Warner; Tom Behrens flag was sent to his brother Dan; and a flag to remember Duane Downing went to the Downing family who in turn donated the flag to the St. Johns Veterans Memorial Organization. That flag now flies over that memorial.
Presently…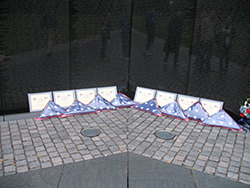 Bruce Flaherty now has flags flown over the capitol and certificates for each of the families of all 289 KIA's that served the 4th/3rd Infantry in Vietnam. His plan is to locate the families and provide them the flag and certificate, his reason is simple-to let the families know that their loved one is not forgotten.
Bruce has also presented the Old Guard with flags flown over the capitol and certificates for the 4th/3rd regiment, Alpha Company, Bravo Company, Charlie Company, Delta Company, Echo Company, HHC and Medics in memory of those killed in action in the Vietnam War.
Need Help…
Locating a family member is not an easy task. This is a long and time consuming project and Bruce could use our help. So if you know of a family member of one of the KIA's listed below, please contact Bruce. If Bruce cannot present the flag and certificate himself, he contacts the Patriot Guard Riders or other organizations that assist and requests that they make the presentation to the family. These flags and certificates mean a lot to the family. Click HERE if you would like to visit the photo gallery of some of the families that have received their loved one's flag.
Bruce Flaherty can be contacted by directly by email at bflahe617@aol.com or by postal mail at 3526 168th Street, Flushing, NY, 11358. Bruce would greatly appreciate donations, as the flags flown over the capitol cost $27.05 each. He greatly appreciates those who have donated.
To date…
Of the 289 men killed in action that served the 4th/3rd Infantry, 11th Light Infantry Brigade, Americal Division; 161 flags have been presented to the individual families. Those names highlighted with a blue background have had memorial flags and certificates presented to the family member(s). We have a long way to go to see this project to completion! Locating remaining family members is not an easy task, any help you would be able to provide would be greatly appreciated. Thank you.
Update: DECEMBER 2020
These lists have all been updated based on the work Bruce Flaherty has been doing. To date, 161 flags have been presented to families.
(These spreadsheets do not lend themselves to viewing with some phones, please use a tablet or desktop device for a better viewing experience.)
Alpha Co
| Last, First, Middle | DOB | Cas. Date | DSC | Hometown | St | Wall Location |
| --- | --- | --- | --- | --- | --- | --- |
| Ackerman, Bill R | 6/15/1947 | 3/29/1970 | | Salt Lake City | UT | 12 West Line 54 |
| Andrada, Wilfredo B. | 5/20/1941 | 9/21/1969 | | Hilo | HI | 18 West Line 118 |
| Banda, Macario S | 2/28/1948 | 2/11/1969 | | Austin | TX | 33 West Line 10 |
| Bartlebaugh, Dennis Lee | 5/29/1949 | 9/21/1969 | | Los Angeles | CA | 18 West Line 118 |
| Bauer, Joseph F., Jr. | 7/24/1942 | 2/26/1969 | | Baltimore | MD | 31 West Line 64 |
| Bryan, David A. | 8/22/1950 | 11/24/1970 | | North Canton | OH | 06 West Line 80 |
| Burgos-Torres, Benjamin | 8/23/1950 | 2/15/1971 | | Cayey | PR | 05 West Line 104 |
| Castillo, Gregorio P. | 5/9/1943 | 9/21/1969 | | Glendale | CA | 18 West Line 119 |
| Comber, David Wayne | 12/7/1951 | 2/15/1971 | | Philadelphia | PA | 05 West Line 105 |
| Cunningham, Dennis A. | 9/28/1949 | 8/21/1969 | | Detroit | MI | 19 West Line 85 |
| Daigneault, Joseph R. | 10/25/1942 | 5/20/1968 | | Worcester | MA | 64 East Line 3 |
| De Felice, Lawrence J. | 12/12/1944 | 2/26/1969 | | Copiague | NY | 31 West Line 65 |
| De Marco, Patrick T. | 3/2/1948 | 1/13/1969 | | Darby | PA | 35 West Line 81 |
| Dennis, Ronald G. | 8/8/1944 | 12/24/1969 | | Indianapolis | IN | 15 West Line 89 |
| Ditson, Lyman R. | 7/12/1945 | 2/9/1969 | | Littleton | CO | 33 West Line 93 |
| Elting, Steven V. | 8/11/1948 | 9/21/1969 | | Vestaburg | MI | 18 West Line 120 |
| English, Steve C. | 2/14/1950 | 2/12/1971 | | Seattle | WA | 05 West Line 98 |
| Fields, John C. | 11/28/1945 | 6/30/1968 | | Oklahoma City | OK | 54 West Line 23 |
| Foster, Joe A., Jr | 12/30/1937 | 9/21/1969 | | Birmingham | AL | 18 West Line 120 |
| Franks, Davitt J. | 2/24/1949 | 9/21/1969 | | Cleveland | OH | 18 West Line 120 |
| Grant, James W. | 2/14/1946 | 5/7/1968 | | Sanford | FL | 56 East Line 24 |
| Gray, Newton M., Jr | 2/5/1947 | 5/20/1968 | | Leon | IA | 64 East Line 5 |
| Green, Jimmie R. | 6/13/1948 | 11/27/1968 | DSC | Keota | OK | 38 West Line 74 |
| Hart, Vernon | 2/25/1951 | 8/15/1971 | | Vidalia | GA | 03 West Line 126 |
| Hathcock, Larry C. | 12/17/1948 | 9/21/1969 | | Stanfield | NC | 18 West Line 120 |
| Hildebrandt, James G. | 4/11/1947 | 7/18/1968 | | Middleton | WI | 51 West Line 5 |
| Horn, Douglas L. | 5/15/1950 | 2/14/1971 | | Kansas City | MO | 05 West Line 103 |
| Junk, Richard H. | 7/24/1947 | 5/20/1968 | | Cassville | WI | 64 East Line 5 |
| Kelton, Richard L. | 7/6/1949 | 11/16/1970 | | Chicago | IL | 06 West Line 64 |
| Lane, Dennis W. | 7/12/1946 | 5/21/1968 | | New York | NY | 64 East Line 16 |
| Larry, John D., Jr | 12/3/1942 | 5/20/1968 | | Birmingham | AL | 64 East Line 6 |
| Larson, Thomas L. | 9/5/1946 | 9/21/1969 | | Rock Island | IL | 18 West Line 123 |
| Marquez, Julian E. | 8/6/1952 | 2/15/1971 | | Albuquerque | NM | 05 West Line 107 |
| Marzenell, Edward Jr | 6/28/1947 | 6/25/1968 | | Birmingham | AL | 55 West Line 36 |
| Maxie, Norman | 1/30/1950 | 7/19/1971 | | Albany | GA | 03 West Line 111 |
| Mayers, Ralph E.,III | 11/21/1948 | 3/9/1969 | | Bedford Hills | NY | 30 West Line 91 |
| Mc Clain, Willie J. Jr | 5/3/1946 | 5/20/1968 | | Detroit | MI | 64 East Line 7 |
| Mc Millin, Gary D. | 8/18/1949 | 11/6/1970 | | Osceola | MO | 06 West Line 43 |
| Mc Nabb, Douglas M. | 9/17/1947 | 2/23/1968 | | Traverse City | MI | 40 East Line 77 |
| Minkus, Dennis J. | 10/10/1949 | 1/13/1969 | | Port Vue | PA | 35 West Line 83 |
| Moran, David A. | 11/2/1951 | 2/12/1971 | | Cold Brook | NY | 05 West Line 99 |
| Moreno, Ramon | 10/7/1936 | 5/3/1969 | | Belvedere | SC | 26 West Line 108 |
| Oglesby, Gerald P. | 11/1/1947 | 7/18/1968 | | North Mankato | MN | 51 West Line 12 |
| Owens, Henry L. | 5/1/1947 | 5/14/1969 | | Effingham | SC | 24 West Line 9 |
| Pacheco, Michael J. | 11/14/1950 | 9/21/1969 | | Paia Maui | HI | 18 West Line 122 |
| Pynnonen, Michael J. | 2/23/1948 | 3/29/1970 | | Lewiston | MI | 12 West Line 58 |
| Ransom, Robert C., Jr | 10/2/1944 | 5/11/1968 | | Bronxville | NY | 58 East Line 25 |
| Rodriguez, Casimiro Jr | 12/27/1944 | 4/19/1968 | | Bloomington | TX | 51 East Line 1 |
| Ross, Gene K | 6/12/1947 | 4/4/1968 | | Boron | CA | 48 East Line 9 |
| Schmaltz, Douglas R. | 8/2/1950 | 2/7/1971 | | Parma | OH | 05 West Line 84 |
| Skumurski, David L. | 2/13/1947 | 4/3/1968 | | Schenectady | NY | 47 East Line 56 |
| Smith, Charles P. Jr | 12/12/1948 | 5/10/1969 | | Richmond | VA | 25 West Line 43 |
| Sprouse, Lee Roy D. | 2/13/1948 | 6/25/1968 | | Dunmore | WV | 55 West Line 39 |
| Steinkirchner, Kenneth M | 7/19/1946 | 2/15/1971 | | Baltimore | MD | 05 West Line 109 |
| Stewart, Henry M.,Jr | 9/27/1948 | 9/21/1969 | | Cincinnati | OH | 18 West Line 123 |
| Swieczkowski, Michael J. | 10/18/1946 | 5/20/1968 | | Hamburg | NY | 64 East Line 9 |
| Troyano, Roland D. | 1/11/1951 | 2/7/1971 | | Newport Beach | CA | 05 West Line 85 |
| Turner, Van S., Jr | 4/18/1948 | 1/19/1970 | | Clarksdale | MS | 14 West Line 48 |
| West, Bobby | 3/20/1949 | 1/21/1968 | | Orange | CA | 35 East Line 10 |
| Western, Richard A. | 2/6/1947 | 5/20/1968 | | Larchmont | NY | 64 East Line 10 |
| Williamson, Ervin H. | 11/28/1948 | 5/10/1969 | | Mifflin | PA | 25 West Line 45 |
| Yoshonis, George C. | 5/14/1950 | 5/16/1971 | | Ferndale | MI | 03 West Line 38 |
Bravo Co
| Last, First, Middle | DOB | Cas. Date | DSC | Hometown | St | Wall Location |
| --- | --- | --- | --- | --- | --- | --- |
| Amspacher, Robert A. | 10/12/1947 | 12/25/1968 | | Norman | OK | 36 West Line 75 |
| Baum, Rory M. | 5/27/1948 | 7/28/1969 | | Creve Coeur | MO | 20 West Line 62 |
| Blackburn, William K. | 4/2/1947 | 8/16/1969 | | Pikeville | KY | 19 West Line 48 |
| Boyer, Thomas M. | 11/6/1950 | 10/11/1970 | | Livonia | MI | 07 West Line 125 |
| Brown, Charles | 9/12/1949 | 2/28/1969 | DSC | Clarksdale | MS | 31 West Line 88 |
| Brown, Tanner M., Jr | 7/6/1949 | 1/2/1970 | | Van Nuys | CA | 15 West Line 117 |
| Busby, Stephen L. | 7/3/1949 | 4/4/1970 | | Arlington | WA | 12 West Line 91 |
| Cantrell, Gerald W. | 11/10/1946 | 4/4/1969 | | Pilgrim Knob | VA | 27 West Line 9 |
| Cochran, Roy B. | 5/17/1940 | 3/16/1968 | | Grover | NC | 44 East Line 66 |
| Colicchio, Peter | 5/18/1947 | 2/15/1968 | | Brentwood | NY | 39 East Line 44 |
| D Angelico, Joseph M. | 9/4/1948 | 1/2/1970 | | Fort Edward | NY | 15 West Line 117 |
| Davis, Gary L. | 2/10/1947 | 1/3/1970 | | Phoenix | AZ | 15 West Line 121 |
| Edmonson, Bobby | 9/17/1946 | 9/1/1969 | | Laurel | MS | 18 West Line 19 |
| Findlay, William T. | 12/27/1950 | 10/29/1970 | | Philadelphia | PA | 06 West Line 26 |
| Garcia, Crecencio C. | 6/15/1943 | 4/24/1968 | | Converse | TX | 51 East Line 45 |
| Garcia, Raul Jr | 6/11/1948 | 1/2/1970 | | Donna | TX | 15 West Line 119 |
| Gleghorn, Jerry W. | 5/25/1947 | 2/7/1968 | | Tulsa | OK | 37 East Line 84 |
| Green, Robert E. | 2/6/1949 | 5/12/1970 | | Purvis | MS | 40 East Line 74 |
| Green, Steven L. | 3/4/1950 | 1/2/1970 | | Albert Lea | MN | 15 West Line 119 |
| Haglund, Victor M., Jr | 5/13/1947 | 11/14/1969 | | Crawford | CO | 16 West Line 74 |
| Harley, John L. | 5/20/1948 | 5/27/1970 | | San Jose | CA | 10 West Line 109 |
| Hood, Terrance L. | 1/14/1947 | 5/12/1970 | | Yuma | AZ | 10 West Line 25 |
| Jackson, Johnny | 3/16/1950 | 6/11/1971 | | Smithfield | NC | 03 West Line 72 |
| Johnson, James G. | 10/22/1947 | 3/19/1969 | | Des Moines | IA | 29 West Line 79 |
| Johnson, Robert H. | 11/8/1946 | 5/12/1970 | | College Station | TX | 10 West Line 25 |
| Labounty, Charles R. | 8/12/1948 | 4/21/1971 | | Lampasas | TX | 04 West Line 136 |
| Lemons, Robert L. | 2/3/1949 | 5/12/1970 | | War | WV | 10 West Line 26 |
| Lentz, David B. | 11/24/1948 | 8/15/1969 | | North Bend | OR | 19 West Line 45 |
| Lewis, Michael L., Jr | 9/15/1944 | 6/29/1968 | | New York | NY | 54 West Line 17 |
| Masse, Raymond G. | 5/15/1948 | 8/15/1969 | | West Springfield | MA | 19 West lien 46 |
| Mc Donell, Terry K. | 11/5/1945 | 8/15/1969 | | Sapulpa | OK | 19 West Line 46 |
| Mc Mahan, Charles D. | 7/17/1945 | 5/12/1970 | | Larose | LA | 10 West Line 25 |
| Milus, Edward Lee | 7/9/1947 | 3/19/1968 | | Fort Worth | TX | 45 East Line 35 |
| Mossford, Gregory F. | 3/19/1947 | 3/20/1968 | | Ashtabula | OH | 45 East Line 41 |
| Murphy, Daniel Owen | | 2/18/1971 | | Greensboro | NC | 5 West Line 118 |
| Osness, Victor W. | 11/16/1949 | 1/1/1969 | | Salt Lake City | UT | 35 West Line 17 |
| Peetzke, Ronald E. | 10/6/1947 | 9/7/1969 | | Hampton | NE | 18 West Line 55 |
| Podebradsky, Anthony J. | 6/19/1947 | 2/15/1968 | | Lena | WI | 39 East Line 52 |
| Pomeroy, David K. | 2/11/1943 | 2/18/1968 | | Lutesville | MO | 40 East Line 12 |
| Pospisil, Alfred Frank | 2/11/1951 | 8/7/1971 | | Moore | OK | 03 West Line 125 |
| Roar, William A. | 8/5/1947 | 4/29/1968 | | Newport | AR | 53 East Line 7 |
| Robertson, Ronnie Lee | 8/16/1948 | 8/15/1969 | | Old Fort | NC | 19 West Line 47 |
| Rosson, Phillip Enos | 11/26/1949 | 2/28/1969 | | Mena | AR | 31 West Line 96 |
| Russo, Thomas Peter | 1/3/1925 | 3/3/1968 | | New Castle | PA | 42 East Line 57 |
| Sanabia, Oscar E. | 12/4/1948 | 12/14/1968 | | New York | NY | 36 West Line 24 |
| Schene, Terrance R. | 1/24/1950 | 5/20/1971 | | St Louis | MO | 03 West Line 42 |
| Schneider, Dennis P. | 4/17/1947 | 2/23/1970 | | Mehama | OR | 13 West Line 50 |
| Scruggs, Albert J. | 00/11/1949 | 9/16/1969 | | West Palm Beach | FL | 17 West Line 1 |
| Sellers, Richard T., Jr | 11/16/1944 | 6/28/1969 | | Palos Verdes Estates | CA | 21 West Line 30 |
| Smith, Michael F. | 3/20/1949 | 4/28/1968 | | Omaha | NE | 52 East Line 44 |
| Smith, John G. | 8/3/1949 | 8/15/1969 | | Hico | WV | 19 West Line 47 |
| Snitchler, Howard W. | 6/24/1946 | 4/28/1968 | | Largo | FL | 52 East Line 44 |
| Snodgrass, Dallas R. | 3/5/1950 | 1/2/1970 | | Brussels | IL | 15 West Line 120 |
| Somerville, William H. | 4/8/1949 | 8/15/1969 | | Charlestown | IN | 19 West Line 48 |
| Staats, Gerald M. | 12/6/1949 | 2/26/1970 | | Dayton | OH | 13 West Line 59 |
| Thomas, William A., Jr | 11/10/1944 | 5/1/1968 | | Havertown | PA | 53 East Line 42 |
| Turner, Freddie | 9/6/1948 | 7/2/1971 | | Baton Rouge | LA | 03 West Line 97 |
| Walker, Clifford W. | 2/14/1944 | 2/18/1968 | | Mountain View | CA | 40 East Line 16 |
| Walker, Lester T. | 4/19/1947 | 4/24/1968 | | Des Moines | IA | 52 East Line 1 |
| Weightman, Greg E. | 10/4/1947 | 5/12/1970 | | Tekoa | WA | 10 West Line 27 |
| Wester, Wilburn E. | 10/9/1924 | 2/17/1968 | | Cedartown | GA | 39 East Line 78 |
| Whalen, Michael C. | 6/19/1943 | 2/28/1969 | DSC | Lee | MA | 31 West Line 98 |
| Williams, Maurice T. | 12/13/1938 | 2/17/1968 | | Ocala | FL | 39 East Line 78 |
| Willis, Steven C. | 4/26/1950 | 12/5/1970 | | Hammond | IN | 06 West Line 109 |
| Wise, Scott E. | 5/1/1949 | 8/17/1969 | | Glenwood | IL | 19 West Line 57 |
| Wright, James W. | 5/20/1948 | 2/28/1969 | | Pensacola | FL | 31 West Line 98 |
| Wyatt, James E. | 10/15/1935 | 3/9/1968 | | Sikeston | MO | 44 East Line 4 |
Charlie Co
| Last, First, Middle | DOB | Cas. Date | DSC | Hometown | St | Wall Location |
| --- | --- | --- | --- | --- | --- | --- |
| Anthony, John E. | 11/14/1948 | 8/19/1970 | | Pomona | CA | 08 West Line 123 |
| Ayers, Douglas E. | 5/3/1949 | 3/24/1971 | | Plainville | CT | 04 West Line 72 |
| Bailey, Donald R. | 12/14/1950 | 3/31/1971 | | Willow Grove | DE | 04 West Line 96 |
| Baldwin, Peter N. | 4/17/1947 | 3/28/1968 | | North Babylon | NY | 46 East Line 52 |
| Batts, William G. | 2/22/1949 | 9/2/1969 | | Avon Park | FL | 19 West Line 23 |
| Beam, Ernest E. | 3/3/1946 | 2/27/1968 | | Guthrie | OK | 41 East Line 47 |
| Boyd, Hurley M. | 5/18/1946 | 4/2/1969 | | Baltimore | OH | 28 West Line 107 |
| Bozeman, Charles L. | 11/29/1943 | 3/18/1968 | | Little Rock | AR | 45 East Line 18 |
| Campbell, Alexander Jr | 5/19/1949 | 10/20/1970 | | Fayetteville | NC | 06 West Line 11 |
| Childress, Billy W | 6/10/1947 | 6/27/1968 | | Fort Worth | TX | 54 West Line 5 |
| Cole, James W. | 8/18/1943 | 7/13/1969 | | Sharon Hill | PA | 21 West Line 111 |
| Cordia, Michael J. | 8/3/1947 | 3/20/1968 | | Richwoods | MO | 45 East Line 38 |
| Couturiaux, Eugene Jr | 8/14/1947 | 2/28/1969 | | Waverly | IL | 31 West Line 90 |
| Crawley, Lawrence E. | 11/12/1950 | 4/19/1971 | | Morganton | NC | 04 West Line 134 |
| Cross, Frederick W. | 10/28/1948 | 8/19/1970 | | Reston | VA | 08 West Line 124 |
| Dillard, John E. | 9/15/1947 | 2/27/1968 | | Kansas City | MO | 41 East Line 49 |
| Elston, Roy D., Jr | 11/17/1948 | 3/28/1968 | | Toledo | OH | 46 East Line 54 |
| Ficklin, Eric | 12/15/1947 | 4/25/1968 | | Morton | MS | 52 East Line 5 |
| Freund, Carter J. | 7/27/1946 | 2/28/1969 | | Mc Henry | IL | 31 West Line 92 |
| Gildow, Thomas J. | 12/30/1948 | 2/4/1969 | | Zanesville | OH | 33 West Line 25 |
| Gordon, James L. | 9/6/1944 | 8/21/1969 | | Detroit | MI | 19 West Line 86 |
| Hadley, James S., Jr | 6/29/1943 | 5/2/1968 | | Chicago | IL | 54 East Line 7 |
| Hall, Jackie W. | 12/6/1944 | 1/13/1968 | | Norman Park | GA | 34 East Line 42 |
| Hargrove, Lane K. | 1/31/1948 | 4/21/1968 | | Wyndmoor | PA | 51 East Line 11 |
| Harmon, Lewis A. | 11/17/1947 | 4/23/1968 | | Atlanta | GA | 51 East Line 39 |
| Haynes, Michael W. | 7/24/1949 | 4/15/1970 | | Charleston | WV | 11 West Line 7 |
| Heavrin, Mark T. | 6/12/1949 | 9/17/1970 | | Evansville | IN | 07 West Line 70 |
| Henderson, Leon | 12/10/1948 | 3/17/1968 | | Jacksonville | FL | 45 East Line 11 |
| Hicks, Wilbur L. | 12/25/1948 | 2/28/1969 | | Jacksonville | FL | 31 West Line 93 |
| Hodge, Ronald E. | 7/17/1949 | 4/18/1970 | | Pontiac | MI | 11 West Line 22 |
| Jacobs, George E. | 12/27/1947 | 4/27/1968 | | Nashville | TN | 52 East Line 30 |
| James, Elvin, Jr. | 10/18/1949 | 8/16/1970 | | Maple Hill | NC | 08 West Line 116 |
| Keithline, Richard W. | 6/30/1947 | 2/28/1969 | | Simsbury | CT | 31 West Line 94 |
| Kilgore, Larry W. | 11/6/1950 | 10/20/1970 | | Lees Summit | MO | 06 West Line 12 |
| Lane, Warren C. | 1/3/1945 | 3/10/1968 | | Grand Rapids | MI | 44 East Line 12 |
| Lynn, Richard R. | 12/16/1947 | 3/18/1968 | | Bethlehem | PA | 45 East Line 24 |
| Matheny, Russell L. | 9/7/1947 | 4/23/1968 | | Sarasota | FL | 51 East Line 40 |
| Mc Kinzie, Thomas L. | 2/15/1948 | 10/17/1968 | | Hulbert | OK | 41 West Line 70 |
| Merrill, Charles L., Jr | 2/2/1949 | 4/15/1970 | | Jersey Shore | PA | 11 West Line 8 |
| Michels, Donald M. | 10/13/1947 | 1/31/1969 | | Mount Clemens | MI | 33 West Line 25 |
| Molettiere, Barry A. | 9/14/1949 | 2/23/1970 | | Hatfield | PA | 13 West Line 49 |
| Nichols, James W. | 12/1/1946 | 2/26/1968 | | International Falls | MN | 41 East Line 42 |
| Orlowski, Charles F. | 8/15/1948 | 3/21/1969 | | Milwaukee | WI | 28 West Line 1 |
| Pennamon, Richard S. | 12/13/1947 | 4/19/1968 | | Chicago | IL | 50 East Line 52 |
| Pichon, Herman E. | 9/23/1950 | 3/24/1971 | | New Orleans | LA | 04 West Line 73 |
| Price, Michael G. | 10/14/1947 | 4/22/1968 | | Trout | LA | 51 East Line 32 |
| Ramos, Bernardo K. | 11/6/1950 | 3/24/1971 | | Watsonville | CA | 04 West Line 75 |
| Rivas, Jose L. | 11/24/1950 | 4/15/1970 | | Los Fresnos | TX | 11 West Line 9 |
| Scully, John M. | 4/12/1947 | 1/13/1968 | | University Heights | OH | 34 East Line 46 |
| Smith, Edgar L. | 3/2/1948 | 10/6/1968 | | Wadley | GA | 41 West Line 17 |
| Smith, Roy M. | 3/31/1950 | 2/19/1971 | | Houston | TX | 08W Line 116 |
| Stewart, John L. | 2/25/1945 | 2/26/1968 | | Seattle | WA | 41 East Line 44 |
| Taylor, Donald C. | 8/30/1949 | 3/5/1970 | | Chenoa | IL | 13 West Line 86 |
| Templeton, Clarence W. | 12/3/1949 | 4/15/1970 | | Sikeston | MO | 11 West Line 11 |
| Thomas, Jerry D. | 8/14/1948 | 5/15/1969 | | Syracuse | IN | 24 West Line 22 |
| Ulbrich, John H. | 5/4/1945 | 6/8/1968 | | Rochester | MI | 58 West Line 4 |
| Van Skike, Monte E. | 4/4/1947 | 2/26/1968 | | St Louis | MO | 41 East Line 45 |
| Wolter, James L. | 1/21/1948 | 1/7/1969 | DSC | Granada | MN | 35 West Line 52 |
| Wright, Michael D. | 1/18/1950 | 3/24/1971 | | Duncannon | PA | 04 West Line 75 |
Delta Co
| Last, First, Middle | DOB | Cas. Date | DSC | Hometown | St | Wall Location |
| --- | --- | --- | --- | --- | --- | --- |
| Baker, John T. | 1/5/1949 | 10/13/1969 | | Marysville | CA | 17 West Line 72 |
| Barnett, Jimmy D. | 2/28/1943 | 3/26/1968 | | Houston | TX | 46 East Line 28 |
| Behrens, Thomas M. | 9/4/1943 | 10/31/1968 | | What Cheer | IA | 40 West Line 61 |
| Blackwater, Dwight T. | 12/28/1945 | 6/19/1971 | | Phoenix | AZ | 03 West Line 82 |
| Borges, Michael E. | 6/17/1950 | 4/2/1970 | | Fairfield | CA | 12 West Line 78 |
| Brantley, Alexander B. | 11/21/1941 | 6/11/1969 | | St Petersburg | FL | 22 West Line 18 |
| Brown, Don C. | 11/11/1950 | 8/26/1969 | | Garden Grove | CA | 19 West Line 117 |
| Carlough, George G. | 12/19/1948 | 1/22/1969 | | Pompton Lakes | NJ | 34 West Line 57 |
| Carter, James B. | 12/1/1946 | 2/16/1971 | | Orlando | FL | 05 West Line 110 |
| Chambers, Donald E. | 5/12/1948 | 4/2/1970 | | Kimbolton | OH | 12 West Line 79 |
| Chastain, Woodrow B. | 9/11/1950 | 8/15/1971 | | Pickens | SC | 03 West Line 132 |
| Cooper, William M. | 10/5/1942 | 9/7/1968 | | Georgiana | AL | 45 West Line 60 |
| Coult, Gerry D. | 1/7/1951 | 7/22/1971 | | Chillicothe | MO | 03 West Line 111 |
| Creech, Phillip G. | 8/27/1949 | 3/2/1970 | | London | KY | 13 West Line 73 |
| Davis, Albert J | 8/25/1948 | 4/30/1969 | | Belmore | OH | 26 West Line 83 |
| Donovan, Michael J. | 12/11/1947 | 6/7/1968 | | Berwyn | IL | 59 West Line 21 |
| Downing, Duane A. | 2/4/1949 | 2/23/1969 | | St Johns | MI | 32 West Line 96 |
| Erickson, Howard W Jr | 5/21/1949 | 4/30/1969 | | Addison | IL | 26 West Line 83 |
| Gallego, Michael | 7/10/1949 | 10/5/1969 | | Tucson | AZ | 17 West Line 41 |
| Goethe, Spencer A. | 5/17/1949 | 4/2/1970 | | Chicago | IL | 12 West Line 80 |
| Graves, Larry | 12/25/1947 | 4/2/1970 | | Carrollton | GA | 12 West Line 80 |
| Hardig, Terry N. | 12/16/1946 | 1/21/1969 | | Urbana | IL | 34 West Line 49 |
| Harrington, James A Jr | 8/30/1944 | 3/28/1968 | | Locust Valley | NY | 46 East Line 55 |
| Hath, James S. | 1/3/1947 | 9/5/1968 | | Dearborn | MI | 45 West Line 41 |
| Henry, George E. | 11/2/1948 | 8/26/1969 | | Palmer | TN | 19 West Line 119 |
| Howard, A W Jr | 7/24/1947 | 12/28/1968 | | Oklahoma City | OK | 36 West Line 84 |
| Keogh, Martin J. | 8/22/1946 | 3/2/1970 | | Mamaroneck | NY | 13 West Line 74 |
| Lambert, Lee M. | 2/12/1949 | 3/28/1968 | | Jacksonville | FL | 46 East Line 53 |
| Limbach, Henry L. | 9/8/1948 | 11/16/1969 | | North Bend | NE | 16 West Line 85 |
| Longo, Dennis M. | 8/1/1946 | 6/18/1968 | | St Louis | MO | 56 West Line 24 |
| Mc Daniel, Michael E. | 2/18/1949 | 10/5/1969 | | St Louis | MO | 17 West Line 42 |
| Meagher, Christopher W | 5/1/1947 | 2/21/1969 | | New York | NY | 32 West Line 71 |
| Mello, Anthony J. | 10/5/1949 | 6/25/1968 | | Baltimore | MD | 55 West Line36 |
| Miller, Ted R. | 10/26/1949 | 4/29/1970 | | Boyertown | PA | 11 West Line 69 |
| Morris, Doyle A. | 9/26/1942 | 8/29/1969 | | St Louis | MO | 18 West Line 7 |
| Olmstead, Dale F. | 8/12/1949 | 10/21/1969 | | Hoyt Lakes | MN | 17 West Line 103 |
| Perkett, David L. | 3/16/1948 | 1/16/1968 | | Birmingham | MI | 34 East Line 60 |
| Perry, Roddie L. | 7/16/1948 | 6/3/1969 | | Dallas | TX | 23 West Line 56 |
| Pipkin, Dennis N. | 3/8/1949 | 4/2/1970 | | Cashmere | WA | 12 West Line 83 |
| Ritzler, Richard P. | 1/15/1949 | 2/23/1969 | | Tiffin | OH | 31 West Line 18 |
| Royston, Alan M. | 5/15/1949 | 2/24/1969 | | Mazomanie | WI | 31 West Line 39 |
| Ruditys, Edward M. | 10/20/1948 | 2/24/1969 | | Troy | MI | 31 West Line 35 |
| Sidelko, George | 3/23/1948 | 4/30/1969 | | New Hartford | NY | 26 West Line 87 |
| Simon, James M. | 12/30/1950 | 2/16/1971 | | West Louisville | KY | 05 West Line 112 |
| Stafford, James H. | 6/2/1937 | 2/16/1971 | | Oakland | CA | 05 West Line 110 |
| Stanley, Thomas L. | 7/1/1947 | 11/21/1968 | | Culpeper | VA | 38 West Line 31 |
| Sullivan, Michael N | 5/10/1949 | 3/11/1970 | | Fairfax | VA | 13 West Line 114 |
| Tatem, Harold P. | 5/23/1948 | 4/30/1969 | | Virginia Beach | VA | 26 West Line 87 |
| Thompson, Melvin E. | 2/19/1948 | 11/21/1968 | | Fonda | IA | 38 West Line 61 |
| Van Horn, Edward L. | 3/30/1947 | 3/5/1968 | | Tacoma | WA | 43 East Line 12 |
| Warner, Henry L., III | 6/21/1943 | 8/27/1968 | | Washington | DC | 46 West Line 46 |
| Wirth, Joseph W. | 10/18/1949 | 3/2/1970 | | Hanson | MA | 13 West Line 76 |
| Yingling, Joseph W., Jr | 10/7/1951 | 6/30/1971 | | Pontiac | MI | 03 West Line 96 |
Echo Co
| Last, First, Middle | DOB | Cas. Date | DSC | Hometown | St | Wall Location |
| --- | --- | --- | --- | --- | --- | --- |
| Branson, Ralph A., Jr | 11/1/1947 | 3/17/1968 | | Vienna | MO | 45 East Line 8 |
| Brown, Marshall J. | 11/23/1947 | 9/6/1968 | | Hyampom | CA | 45 West Line 48 |
| Hanson, Terrance R. | 9/15/1947 | 9/6/1968 | | Stewartville | MN | 45 West Line 51 |
| Holmes, James C. | 1/9/1943 | 9/6/1968 | | Sabina | OH | 45 West Line 52 |
| Lane, Richard A. | 8/13/1944 | 6/16/1968 | | Fontana | CA | 56 West Line 5 |
| Lindsey, Arthur D. | 2/19/1948 | 3/9/1969 | | Paducah | KY | 30 West Line 90 |
| Maddox, Paul R. | 12/22/1942 | 12/23/1967 | | Massillon | OH | 32 East Line 52 |
| Mattson, Paul E. | 9/13/1944 | 4/20/1968 | | Lake Bluff | IL | 51 East Line 9 |
| Mehegan, Richard H. | 12/18/1944 | 3/18/1969 | | Tacoma | WA | 29 West Line 70 |
| Miller, Robin B. | 12/5/1949 | 3/9/1969 | | Philadelphia | PA | 30 West Line 91 |
| Moree, Barry R. | 2/23/1947 | 9/6/1968 | | Akron | OH | 45 West Line 55 |
| Morrow, Hershel E. | 2/2/1947 | 9/6/1968 | | Corinth | MS | 45 West Line 55 |
| Nurzynski, Joseph A. | 6/2/1944 | 5/12/1969 | | Buffalo | NY | 25 West Line 79 |
| Peteroy, Bruce E. | 5/20/1948 | 5/12/1969 | | New York | NY | 25 West Line 81 |
| Peters, George E., Jr | 2/24/1948 | 5/1/1968 | | St Xavier | MT | 53 East Line 40 |
| Petrie, John J. | 10/25/1946 | 3/9/1969 | | Cut Bank | MT | 30 West Line 94 |
| Richard, Jerry G. | 2/13/1948 | 9/6/1968 | | Anniston | AL | 45 West Line 56 |
| Secrest, Edward W. | 8/26/1948 | 9/6/1968 | | Philadelphia | PA | 45 West Line 56 |
| Still, Floyd L. | 2/27/1948 | 9/6/1968 | | Barnwell | SC | 45 West Line 57 |
| Steinkirchner, Kenneth M | 7/19/1946 | 2/15/1971 | | Baltimore | MD | 05 West Line 109 |
| Sturgill, Michael J. | 9/15/1949 | 5/12/1969 | | Jackson | MI | 25 West Line 87 |
| Sullivan, Harold | 11/22/1948 | 2/20/1969 | | Pineville | KY | 32 West Line 68 |
| Thomas, Charles Jr | 8/2/1947 | 5/12/1969 | | New Orleans | LA | 25 West Line 88 |
| Utts, William W. | 12/30/1942 | 3/19/1969 | | Omaha | NE | 29 West Line 85 |
| Wable, Samuel L. | 1/12/1950 | 5/12/1969 | | Altus | OK | 25 West Line 90 |
| White, Donnie R. | 4/9/1948 | 9/6/1968 | | Nashville | TN | 45 West Line 58 |
| Wieckowicz, Anthony J. | 9/12/1946 | 1/23/1969 | | Conrath | WI | 32 East Line 69 |
| Williams, Rayner E. | 3/31/1948 | 9/6/1968 | | Baltimore | MD | 45 West Line 54 |
HHC
| Last, First, Middle | DOB | Cas. Date | DSC | Hometown | St | Wall Location |
| --- | --- | --- | --- | --- | --- | --- |
| Adkins, James D. | 5/22/1948 | 6/8/1969 | | Middletown | OH | 23 West Line 108 |
| Ames, Alexander A. | 9/21/1946 | 10/31/1968 | | New York | NY | 40 West Line 61 |
| Barker, Frank A., Jr | 1/26/1928 | 6/13/1968 | | New Haven | CT | 57 West Line 6 |
| Childress, Robert Jr | 4/30/1949 | 5/12/1970 | | Nashville | TN | 10 West Line 22 |
| Coast, Albert F. | 2/8/1933 | 4/20/1971 | | Ramona | OK | 04 West Line 135 |
| Dean, Carl A. | 3/23/1949 | 9/21/1969 | | Edgewater | MD | 18 West Line 118 |
| Dunsmore, Frank M., Jr | 9/14/1948 | 1/2/1970 | | Lanham | MD | 15 West Line 118 |
| Duplechain, Andrus F. | 5/16/1949 | 9/28/1970 | | Eunice | LA | 07 West Line 98 |
| Egyed, Gerald L. | 5/16/1948 | 10/13/1968 | | Detroit | MI | 41 West Line 58 |
| Fullerton, Fred S.Jr | 6/2/1947 | 5/8/1968 | | York | PA | 57 East Line 3 |
| Groff, Dennis A. | 1/12/1947 | 2/28/1969 | | Kenosha | WI | 31 West Line 92 |
| Hartley, Robert J. | 2/25/1947 | 5/20/1968 | | West Roxbury | MA | 64 East Line 7 |
| Johnson, Leo F. | 1/21/1932 | 10/11/1969 | | Clewiston | FL | 17 West Line 67 |
| Jones, Larry A. | 10/15/1948 | 9/6/1968 | | St Louis | MI | 45 West Line 53 |
| Kettering, Robert P. | 6/19/1945 | 4/2/1970 | | Canton | OH | 12 West Line 82 |
| Michles, Earl R | 9/22/1938 | 6/13/1968 | | Pocahontas | AR | 57 West Line 11 |
| Rivera, Raul | 4/13/1948 | 8/16/1970 | | Newburgh | NY | 08 West Line 117 |
| Simmons, Randall R. | 8/27/1949 | 4/15/1970 | | Chicago | IL | 11 West Line 11 |
| Smith, Albert J. | 11/9/1931 | 6/16/1969 | | Anadarko | OK | 22 West Line 60 |
| Tully, Walter B., Jr | 4/13/1936 | 3/2/1969 | | Madison | NJ | 30 West Line 17 |
| Villalobos, Ignacio L | 7/31/1946 | 6/8/1969 | | Pico Rivera | CA | 23 West Line 115 |